Back to School Letter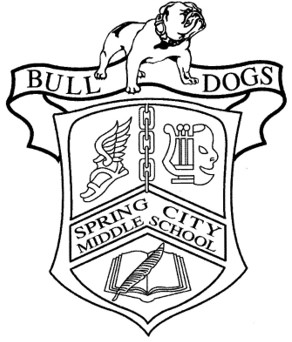 ---
2020-2021 Back to School Letter
SCMS Family,
Welcome back to Spring City Middle School. Covid-19 has brought about many changes to the daily operations at SCMS. This letter addresses the strategies that will be put into place to provide a safe environment for both students and faculty/staff.
Faculty/staff will have their temperature checked every morning upon arrival.
Students will have their temperature checked as they enter the building each morning and again mid-day.

Intense cleaning of the building will take place during the day and evening.
Cafeteria tables/seats have been spaced out and lines have been placed for students to stand on while in line.

Seats are marked off in the gym for social distancing during bus duty.

Students will not dress out for pe, except for changing into gym shoes. Locker rooms will only be used in the event a student needs to use the restroom and then only one student will be allowed in the locker room.
Daily lessons on social distancing, hand washing and proper procedures for coughing/sneezing.

Each class will have a hand sanitizing station and will be disinfected after each class change.
Students will always walk the hallway on the right side. This will limit any interaction with other classes in the hall.
NO VISITORS

will be allowed in the building. Parents will be met at the front door should a student need to be checked in/out. We will not allow visitors for lunch. If you need to meet with teachers/administrators, an appointment will be required.
Students will only be allowed to ride their assigned bus. Students will

not

be allowed to ride a bus home with friends due to limited/assigned seating on buses.
Suggestions for Home
Check your child's temperature before sending to school. If they have a fever, KEEP THEM HOME. Your child does not need to return to school until they have been fever free for 24 hours WITHOUT medication.
Talk with your child about the importance of handwashing, coughing/sneezing into their elbows and keep a social distance from other students.
Please make sure your child has their own school supplies. The grade level lists are on our school website.
Please make sure you purchase your child a no spill water bottle. The water fountains will be closed.
If your child will be purchasing snacks in the cafeteria, we STRONGLY encourage you to use the prepay online system,

https://www.schoolcafe.com

. You will need your child's PowerSchool number. We will send a letter with that information soon.